EPB Center Services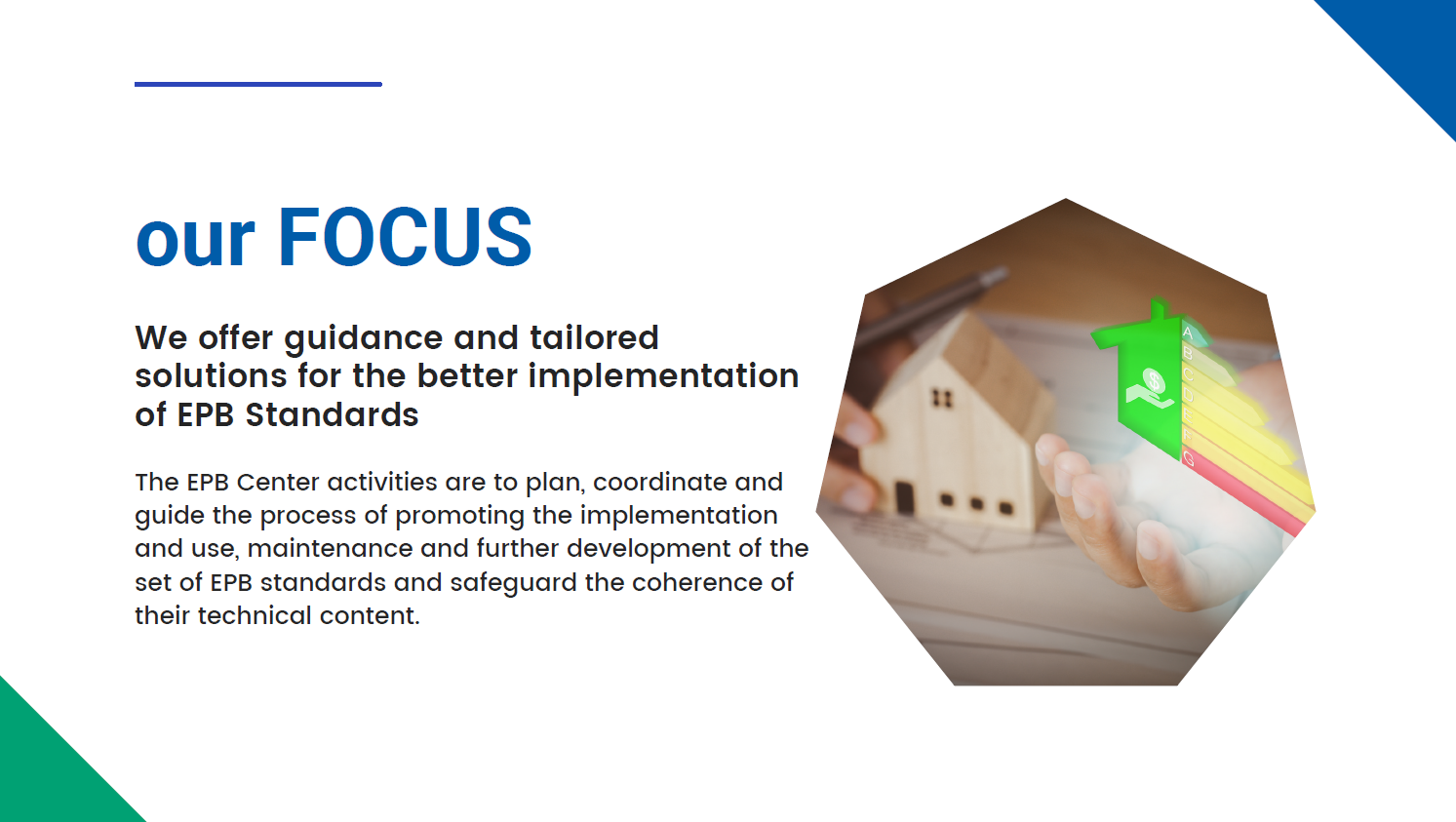 A diverse range of services is foreseen, to be set up in consultation with our partners.
Some of these activities belong to the regular (standardization) activities within ISO or CEN, other activities have a so called pre- or co-normative character like research and initiation and preparation of proposals for new standards work, and others are typically carried out outside the ISO or CEN structure, like help with implementation of the standards in practice.
To name a few:
Providing central support to the individual countries and regions on the implementation of the set of EPB standards, via targeted information and by organizing and analysing feedback from practical experiences in the implementation. With special attention to the implementation of the options provided in each EPB standard to tailor the EPB standards to the national or regional situation.
Central and horizontal coordination of the maintenance of the set of EPB standards aiming to maintain and further improve the overall consistency, transparency and usability of the technical content (aftercare).
To prepare coordinated proposals and plans for future further development, based on innovations, new insights and new market demands.
Assistance in the improvement of the relation between the system performance (the set of EPB standards) and international standards for the assessment of product performance (EU: Ecodesign).
Support in the implementation of the set of standards in developing countries.
Contribution to the coordinated development of tools that help the understanding or implementation of the standards (e.g. software).
Communication and information exchange, including Frequently Asked Questions.
Other and more specific activities e.g. via partnerships in international research and demonstration or policy related projects where the EPB standards and their implementation plays a role. For example: related to the common voluntary certification scheme for non-residential buildings in Europe.
 
Interested but not sure how you can leverage the set of EPB standards in your country, or in your organisation? 
Our EPB experts will be happy to learn about your requirements and offer you detailed guidance and tailored consultancy on hands-on challenges you may face. For a concrete offer tailored based on your specific needs, please contact us. 
Together, we can improve the performance (energy, emissions, indoor climate) of our buildings!