Policy webinar on EPBD & IEQ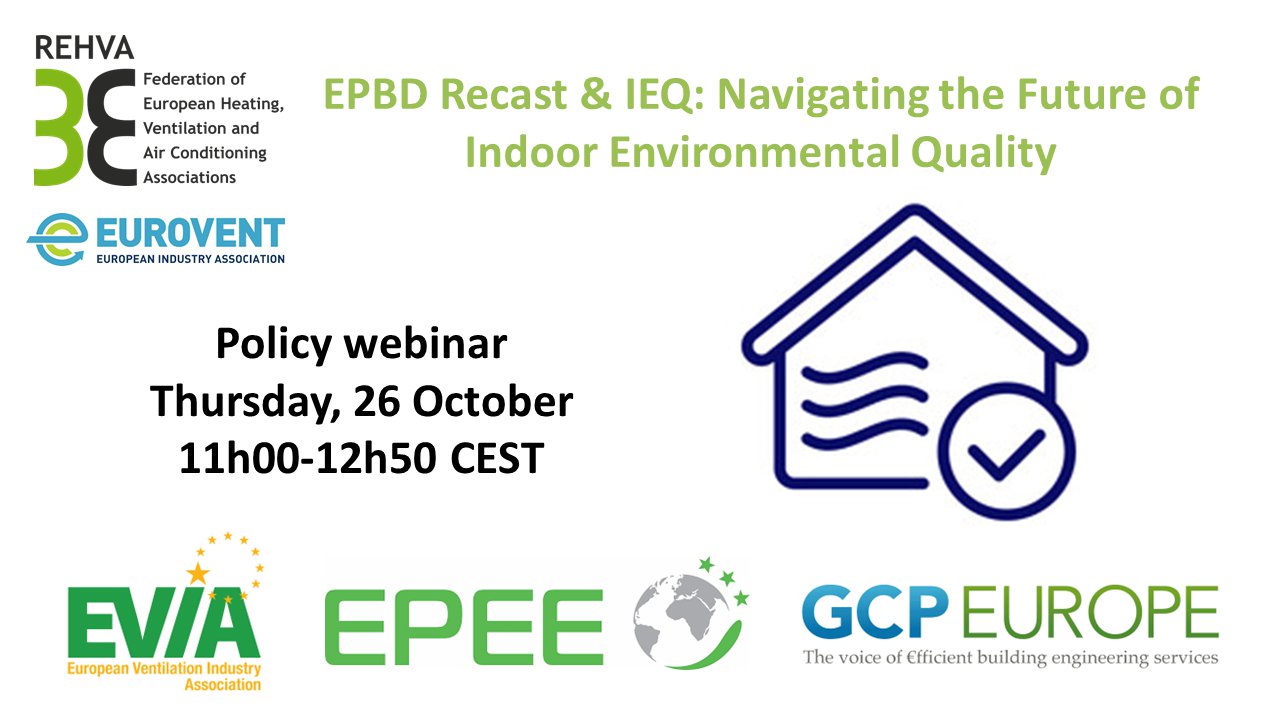 This REHVA hosted policy webinar, during the Build Up Portal's month of IEQ, delves deeply into the multi-faceted world of building performance with an emphasis on Indoor Environmental Quality (IEQ). As we navigate through the realm of energy-efficient buildings and improved indoor climate, the lens of IEQ offers insights into not only the health and well-being of occupants but also the broader sustainability goals and energy performance of buildings.
With the ongoing EPBD Recast Trilogue signalling adjustments related to IEQ, it becomes imperative for stakeholders to have a comprehensive and updated perspective. These anticipated amendments underscore the nexus between energy performance assessment and indoor environmental quality, reaffirming the intertwined nature of building sustainability, occupant health, and energy efficiency.
Join under the leadership of REHVA, with the support of Eurovent Association, together with eminent IEQ researchers, experts and representatives from EVIA, EPEE and GCP Europe to embark together on a journey of exploration, discussion, and strategic thinking. Our collective expertise will dissect the probable changes, evaluate their broader implications, and chart out strategies for the smooth transposition and effective implementation of the EPBD Recast in EU's Member States.
Whether you're a building professional, policymaker, researcher, or simply an engaged stakeholder, this session is tailored to empower you with in-depth insights, pragmatic knowledge, and collaborative avenues. Equip yourself to confidently navigate the evolving landscape of IEQ, especially within the evolutive framework of the EPBD Recast.
Engaging with top IEQ experts has never been easier. Mark your calendars and register today to guarantee your participation in this empowering shot of knowledge.
Programme (indicative timing):
(10 min)   Welcome & introduction
       Jarek Kurnitski, Chairperson Technology & Research Committee, REHVA / Professor, TalTech
(15 min)   Overview of IEQ and its Importance
       Pawel Wargocki, Associate Professor, International Centre for Indoor Environment and Energy, DTU
(15 min)   IEQ-related changes introduced by the EPBD Recast
       Claus Händel, Technical Secretary, EVIA
(60 min)   Panel Discussion: Transposing and Implementing the EPBD Recast Changes
Moderated by Jarek Kurnitski, Chairperson Technology & Research Committee, REHVA / Professor, Taltech
Panelists:
       Carsten Dittmar, Product Area Director Heating, Systemair Group
       Claus Händel, Technical Secretary, EVIA
       Henk Kranenberg, Senior Manager, Daikin Europe
       Risto Kosonen, Vice-President & Board Member, REHVA / President FINVAC
       Christina von Westernhagen, Chairperson Energy Efficiency & Environment Working Group, EPEE
       Nathan Wood, Chairperson IEQ Working Group, GCP Europe
Discussion points:
Strategies for successful transposition
Anticipated challenges and solutions for implementation
Collaborative measures to ensure uniformity in implementation across EU
(10 min)   Concluding Remarks and Way Forward
       Risto Kosonen, Vice-President & Board Member, REHVA / President FINVAC